IIP chosen as a ROARING 20 Business
The Roaring 20 award honors Hampton Road's most dynamic businesses based on revenue and employee growth. The award recognizes the region's fastest growing companies that are making significant contributions to our local economy. The winners will be profiled in a special report included in Inside Business and honored at an awards ban
We've moved!
SEPTEMBER 2009-- iip has moved to a more centrally located office in Virginia Beach, near the Lynnhaven Mall. iip's office is located at 753 Voyager Ct, Virginia Beach, VA 23453. The new office boasts:

An all-in-one office setting
More office space
2 warehouses
Plenty of parking
& the ability to hire additional staff
Get directions
iip Wins Vendor of the Year in 2009
JUNE 2009-- For the third year in a row, Impressions in Print has been selected by consumers as the National Vendor of the Year by the franchisees of Liberty Tax Service. The franchisees chose iip based on excellent customer service, merchandise quality and the creative merchandise programs. iip was presented the award at the National Liberty Tax Convention in June.
iip Wins Vendor of the Year Award in 2008
JUNE 2008-- Impressions in Print has been selected as the National Vendor of the Year by the franchisees of Liberty Tax Service in 2007 and again in 2008. The franchisees voted for iip based on excellent customer service, quality of the merchandise and the creativity in the merchandise program. iip was presented the award at the National Liberty Tax Convention.
iip Adds Large Format Printing
SEPTEMBER 2007-- iip has opened a new division in-house and is now printing large format, full-color banners, signs, vehicle graphics, posters and more.
iip Wins Prestigious Silver Pinnacle Award
October 11, 2000 -- Impressions in Print, the Virginia Beach promotional marketing firm responsible for all of OpSail 2000 Virginia's merchandising, won a prestigious Silver Pinnacle Award in the International Festivals & Events Association (IFEA) annual competition. Norfolk Festevents Ltd. entered the merchandising program in the category "Best Overall Merchandising Program." Honored during the association's annual convention held in New Orleans in September, OpSail 2000 Virginia was one of only 130 organizations worldwide to receive this distinguished award. This year's contest brought a record number of 1,600 entries, according to Mark Tucker, IFEA vice president of communications. Impressions in Print, hired by Norfolk Festevents, Ltd. to design and implement a complete merchandising program for OpSail 2000 Virginia, was the exclusive merchandising company for the Hampton Roads event and designed the logo and merchandise line for Baltimore's OpSail event also. "We are delighted to have been part of the OpSail 2000 experience and to have our program recognized for its excellence. From the initial concept, to logo design, product selection and marketing of the merchandise, we wanted the program to represent quality. This award is quite an honor. To be recognized worldwide for our program is very exciting," said Debbie Higgins, owner of Impressions in Print. "We couldn't be happier for Debbie Higgins and her team at Impressions in Print," said Karen Scherberger, director for Norfolk Festevents. "They deserve this award. Impressions in Print created a very successful merchandising program for us, and they handled all of the marketing around the items pre-, during and post-event. They not only sold merchandise via catalog and Web site, but they also staffed the exceedingly busy booths during the event. We are thrilled that Impressions In Print was able to contribute over $18,000 to various community groups through sales of OpSail 2000 Virginia merchandise. They also formed partnerships with Farm Fresh and Dillard's and developed a product line for them to sell to the public." "Other winners in the Pinnacle competition included Churchill Downs, Walt Disney World's Epcot Center International Flower & Garden Festival, and Milwaukee's World Festival (created by Summerfest)," said Higgins. "I am honored our merchandising program was recognized along with such internationally renowned events." ### International Festivals & Events Association is an association of more than 4,000 international festival and event organizers dedicated to promoting the professionalism of special events worldwide. The IFEA Pinnacle Awards, honoring winners annually for three decades, recognize outstanding events and programs internationally. Impressions in Print is a 7-year-old promotional marketing and advertising specialty company, specializing in corporate programs and special event merchandising. For more information, please contact Debbie Higgins at 757-497-0671 or E-mail iip@exis.net.
IIP is an INC 5000 honoree for 2nd year in 2010
PRESS INFORMATION For Immediate Release Contact: Ashleigh Bagwell 757-497-0671 ashleigh@iipva.com August 27, 2010 Ashleigh@iipva.com IMPRESSIONS IN PRINT NATIONALLY RECOGNIZED FOR GROWTH AS AN INC. 500/5000 WINNER (Virginia Beach, VA) Inc. magazine has ranked Impressions in Print #1770 on their annual ranking of the 5000 fastest growing private companies in the United States for 2010. This is the second year the company has been listed. Inc. 500|5000 is ranked according to the percentage of revenue growth from 2006 through 2009. To qualify, companies must have been founded and generated revenue by the first week of 2006, and therefore able to show four full calendar years of sales. Additionally, they have to be U.S.-based, privately held, for profit, and independent -- not subsidiaries or divisions of other companies -- as of December 31, 2009 (a number of companies on the list have gone public or been acquired since that date). Revenue in 2006 must have been at least $200,000, and revenue in 2009 must have been at least $2 million. In 2009 IIP was ranked # 2371 moving up in the 2010 ranks by 601 places. "We are honored to be recognized among America's fastest growing companies," stated Impressions In Print president and CEO Debbie Higgins. "This recognition personifies the dedication and hard work of our entire team and celebrates the successful partnerships that we have with our clients. Even with a difficult economy we have been successful because we offer products and services that have helped other businesses lower cost, bring in customers and focus on what they do best. We believe that our success is attributable to an unwavering commitment to excellence, attentive service and superb quality. In 2009 we relocated to a larger office and added additional warehouses to accommodate our growth. In addition, our ecommerce technology has taken our company to the next level. For this reason, our business has done well in this economy and we have seen tremendous growth." About Impressions in Print Founded in 1994 as a promotional products company, IIP has been creating, warehousing and distributing branded products for sixteen years. Businesses and organizations look to IIP when they need help branding their company and controlling their logo and image through better materials management. IIP develops programs that give companies and organizations a guaranteed ROI using a guerilla marketing style of advertising and branding. IIP products and services include promotional merchandise, logo apparel, t shirts, graphic design, commercial print, signage, vehicle wraps and more. All are created and distributed within a controlled environment that promotes simplicity and easy-of-ordering and distribution through our advanced online company stores using our technology for private label company stores Dealers, franchisors, large sales forces and organizations have depended on IIP to help create effective promotional materials and products, control their brand, promote their brand and aid in the easy access and quick distribution of their branded materials. For more than 30 years, Inc's list has served as evidence of the significant accomplishments of companies such as Impressions In Print, Inc. "This year more than ever, this year's list is a testament to the creativity, resilience, and tenacity of America's top entrepreneurs," states Jane Berentson, Editor of Inc. magazine. Over 27 million businesses are registered in the United States and thus eligible for consideration; past honorees have included Microsoft, Timberland, Intuit, Oracle and Zappos.com.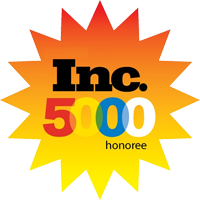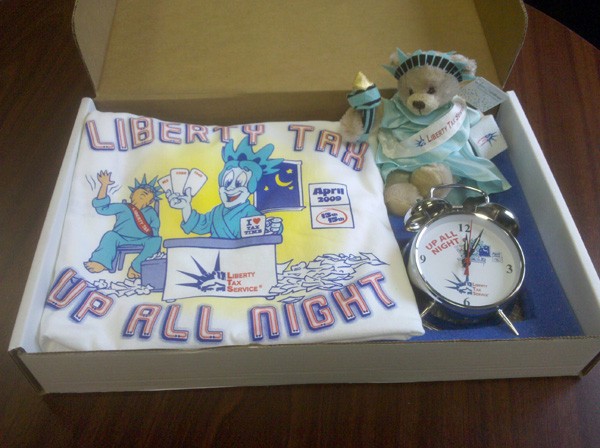 "Up All Night" promotion makes headlines
People know it's coming, but inevitably some wait until the last moment to file their taxes. It's these stragglers that Liberty Tax Service hoped to reach when it decided to keep its offices open around the clock April 13-15. Franchises around the country wanted taxpayers to take advantage of the extended hours and they also wanted to add some excitement to the process. Deborah Higgins, chief operating officer of Virginia Beach, Virginia-based distributor Impressions In Print, Inc. (UPIC: iipnprin), stepped up with an idea: Make it a party. "Liberty Tax Service wanted to encourage fun and no stress during a stressful time for those who waited until the last days to prepare their taxes," she says. Her solution was a franchise-wide party, "Up All Night," where taxpayers could stop in anytime day or night to complete their taxes, enjoy refreshments and even wear their pajamas. "The goal was to receive media attention by getting coverage of the event," says Higgins. "By increasing awareness of the program using promotional products, we anticipated more customers would come to have their taxes prepared during the last peak days." Higgins gathered customized bell-style alarm clocks, t-shirts and teddy bears, and packaged them in customized boxes along with a press release detailing the "Up All Night" event. The boxes were sent overnight to more than 400 national media outlets including newspapers, TV stations and syndicated radio stations. "The most challenging part of the promotion was the time frame. We only had two weeks to create the art, get all of the items imprinted and do the fulfillment. All the boxes had to be shipped overnight to the media for early-morning delivery on April 13 to keep the promotion confidential. With help from wonderful employees and dependable suppliers we were able to reach the goal," says Higgins. Higgins also created banners, signs and sticky-note coupons that franchisees posted around their communities to promote the event. Plus, remote radio was done in conjunction with a roadside party at many locations. Those who stopped by received t-shirts and travel mugs. "The graphics were fun and many folks wore the t-shirts around town, helping to promote the event," Higgins says. "Customers had fun getting their taxes done and many wore their pajamas. The overnight box was well-received by media and resulted in major media hits." Tax-Time Celebration By: Audrey Sellers, Associate Editor Issue: May 2010

4Ward Marketing Teams Up With IIP
Virginia Beach, VIRGINIA – 4WARD Marketing and Impressions in Print (IIP) have formed a strategic partnership to launch Shop 4WARD; an online promotional products website created to serve the needs of financial advisors by uniquely branding innovative items to enhance and reinforce their business image. Both award-winning companies provide solid solutions to everyday problems to help advisors better build their business. "This alliance could not have come at a better time as financial advisors contemplate what to send their clients during the upcoming holiday season. The most asked question is 'How can I thank my clients for their business this year?' Shop 4WARD takes the grunt work out and IIP has researched what products are most beneficial after being in business for over 16 years," said Kimberly A. Branch, CFP®, CLTC, President of 4WARD Marketing. The importance of reminding clients about your business is sometimes best stated in the form of cool and unique products and gadgets. Most of these products have a shelf-life of two to five years. Studies have shown that of clients given promotional products, 91% have an item in their home and 70% have an item in their office. Shop 4WARD turn-key online ordering system provides a no-hassle approach to ordering personalized items and gift packages. "I think the uniqueness and usefulness of an item has a direct correlation to your business. You want to promote your company with something that relates to your clients. It can be a heart-warming gift, a useful office supply or even an odd-looking conversation starter. Anything they can relate with your business in a positive way is a good giveaway," said Debbie Higgins, CEO of Impressions in Print. Businesses and organizations look to IIP when they need help branding their company and image through better merchandising management. IIP develops outside-the-box programs that provide companies and organizations a guaranteed ROI using a guerilla marketing-style of advertising and branding, including promotional merchandise, branded apparel, signage, vehicle wraps and more. All items are created and distributed within a stable environment that promotes simplicity, easy ordering and distribution through www.shop4ward.com. 4WARD Marketing is a full-service firm that provides highly customized, effective, and innovative marketing tools and products for financial advisors to catapult their practice to the forefront. Their tried-and-true solutions are designed to enhance and expand a client's business and image through graphic and web design, mentoring and coaching programs, and marketing materials.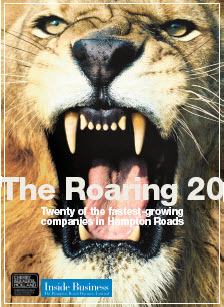 Selected as Roaring 20's Business In Hampton Roads
Debbie Higgins does both. ... www.insidebiz.com, 19 Nov 2007 [cached] Debbie Higgins does both. Higgins is president and founder of Impressions In Print Inc., a Virginia Beach company that literally started with stick figures.In 1994, Higgins, then a kindergarten- and first-grade teacher at Greenbrier Primary School in Chesapeake, hand-painted a stick figure T-shirt for the school. Soon after, "I started getting orders from other states and then from other countries," Higgins said. Enter mass production.Higgins went out and bought a screen printer to make more T-shirts.In 1996, her first big client, Ocean Breeze Fun Park, took her by surprise. "They wanted to come to my office, and the office was in my garage," she said. To save face, she rented out a small office. Today, Higgins is president of Impressions In Print Inc. in Virginia Beach.The company, which sold $3 million worth of products and designs last year, has seven full-time employees and more than 80 clients. Step inside the IIP showroom and you'll find the signature costumes and foam visors of Liberty Tax Service.The Virginia Beach-based tax preparation franchiser isn't IIP's biggest client, but it's "our most important client," Higgins said. "I think having the contract with them helped us to think outside of the box," she said. The Roaring 20 award honors Hampton Road's most dynamic businesses based on revenue and employee growth. The award recognizes the region's fastest growing companies that are making significant contributions to our local economy.
Debbie Higgins in the news
Former schoolteacher Debbie Higgins turned a knack for hand-painting kids' T-shirts into a $4.5 million business designing promotional products for Liberty Tax Service, Ocean Breeze Waterpark and other clients. In 1992, Higgins was teaching primary school in Chesapeake. She and a student's mother collaborated on a classroom T-shirt project that, thanks to word of mouth, quickly mushroomed. The designs were so popular, other schools and agencies began requesting them. To keep up with the orders, the women bought screen-printing equipment and worked out of a garage. Then the city of Chesapeake called, requesting some designs for its Reading Month program. Higgins and her partner realized their humble endeavor had become a bona-fide business. "She decided to back out of it and get back to her life," Higgins said. "And I decided that I would move forward with it." In 1994, Higgins quit teaching and launched Impressions in Print. "Once the orders started rolling in, you had to look at the dollars," she said with a laugh, "and say, 'OK, I can go forward and make a lot of money. And that's what I did. I love it. It's something different every day." Today she has a brand-new office in Virginia Beach and a permanent staff of 15 graphic artists and other employees. One of her daughters, who graduated from college shortly after Higgins launched the business, is director of operations. The company creates logos and other designs for all kinds of branded merchandise, such as mugs, T-shirts, banners and business cards. Impressions in Print has also branched into warehousing and order-fulfillment services, particularly for e-commerce sites. Higgins hopes to use the new office's extra space - about 3 spare acres - to expand the warehousing business. Higgins jokes that she has "refused to participate in the recession." Fortunately, clients have continued to buy products, although they have been more frugal in their orders. "Companies downsized the cost of items that they were ordering," she said. "Where they may have been ordering jackets for their employees for holiday gifts, they ordered golf shirts. So we did see a change in the trend, but we didn't see a change in people's marketing habits so much. So we were very, very lucky. We've positioned ourselves in a really good place."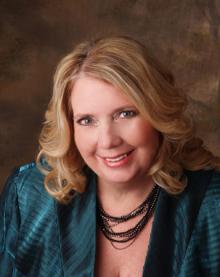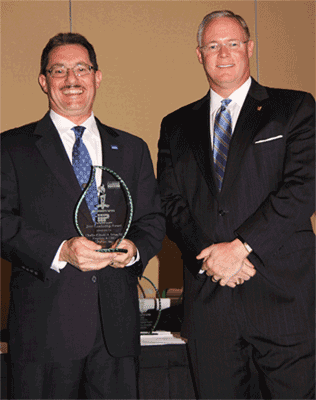 Impressions In Print presents Leadership Award
Chuck Schue was presented with the HRCC Impressions in Print Leadership Award On May 25, 2010 UrsaNav President and CEO Chuck Schue was presented with the Hampton Roads Chamber of Commerce (HRCC) Impressions in Print Leadership Award. A celebratory awards luncheon was held at the Portsmouth Renaissance Hotel & Conference Center. The award not only signifies Schue's proven organizational development and leadership skills but his cultivation of a cohesive team environment. He and partners Randy Hall and Jim Moore founded UrsaNav with the vision of a company that builds upon the collective strengths of individuals—all in a fun-spirited environment of trust, respect, and teamwork. Under Chuck's leadership, entrepreneurial-minded employees have been given the tools, resources, and support they need to be successful. Debbie Higgins, president of Impressions in Print, Inc., presented Chuck with the Leadership Award noting UrsaNav's ranking by Inc. magazine as the 8th fastest growing company in the Engineering division and the 807th fastest growing company overall for its annual Inc. 500/5000. She stated, "A company that started in 2004 with just five employees has increased to more than 90, with services and direct contract support extending to 42 government and commercial customers at over 20 locations throughout the globe." Chuck humbly accepted the award and in describing his role as a leader of highly motivated and imaginative employees, he explained how UrsaNav's growth—in size and scope of work—is a direct result of the cooperative efforts, ambition, and synergy of the "team". He stated, "I'm responsible for inspiring them to collaborate so that problems are transformed into solutions—and uncompromising solutions at that. My contribution is to position people for success. When they succeed, we succeed." Chuck also emphasized UrsaNav's role as a "good neighbor" by engaging in charitable work and forging relationships with nearby businesses. He concluded by declaring his hope that UrsaNav will continue its pursuit of excellence and hold to the motto "follow the stars".